Topic category: Other/General
When Prophecies Fail, Start Moving Goal Post
As CO2 fails to accelerate and temperatures fall instead of rise, to keep the pressure on governments to continue efforts for carbon emission controls, the forces of alarmism turn elsewhere, this week to the oceans and that dreaded ozone hole to try and save their cause.
The Johns Hopkins University Office of News and Information Release:
Global warming may delay recovery of stratospheric ozone

Increasing greenhouse gases could delay, or even postpone indefinitely the recovery of stratospheric ozone in some regions of the Earth, a Johns Hopkins earth scientist suggests. This change might take a toll on public health.

Darryn W. Waugh, a professor in the Morton K. Blaustein Department of Earth and Planetary Sciences at Johns Hopkins University, and his colleagues report that climate change could provoke variations in the circulation of air in the lower stratosphere in tropical and southern mid-latitudes - a band of the Earth including Australia and Brazil. The circulation changes would cause ozone levels in these areas never to return to levels that were present before decline began, even after ozone-depleting substances have been wiped out from the atmosphere.
The ozone hole has not closed off after we banned CFCs, in fact last year was the 5th largest hole in size. See this story in Nature about how the Consensus about the Ozone Hole and Man's Role (with CFCs) May Be Falling Apart.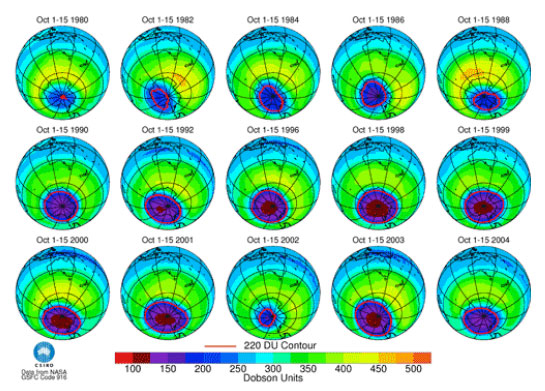 And in the New York Times, Cornelia Dean reports:
Rising Acidity Is Threatening Food Web of Oceans, Science Panel Says

The oceans have long buffered the effects of climate change by absorbing a substantial portion of the greenhouse gas carbon dioxide. But this benefit has a catch: as the gas dissolves, it makes seawater more acidic. Now an international panel of marine scientists says this acidity is accelerating so fast it threatens the survival of coral reefs, shellfish and the marine food web generally.

The panel, comprising 155 scientists from 26 countries and other international groups, is not the first to point to growing ocean acidity as an environmental threat. For example, a group of eminent scientists convened by The Nature Conservancy issued a similar assessment in August. But the new report's blunt language and international backing give its assessment unusual force. It called for "urgent action" to sharply reduce emissions of carbon dioxide.
See this landmark study by Dr. Craig Idso completely destroying the notion that acidity changes were a bad thing. Note the Nature Conservancy was an organization ENRON reportedly funded heavily to find evidence of CO2's role in climate or our environment so that they could benefit from carbon trading.
Joseph D'Aleo
ICECAP (Executive Director)
Send email feedback to Joseph D'Aleo
---
Notes:
---
Biography - Joseph D'Aleo
Joseph D'Aleo was the first Director of Meteorology at the cable TV Weather Channel. He has over 30 years experience in professional meteorology. Mr. D'Aleo was Chief Meteorologist at Weather Services International Corporation and Senior Editor of ŇDr. DewpointÓ for WSI's popular Intellicast.com web site. He is a former college professor of Meteorology at Lyndon State College. He has authored and presented a number of papers as well as published a book focused on advanced applications enabled by new technologies and how research into ENSO and other atmospheric and oceanic phenomena has made skillful seasonal forecasts possible. Mr. D'Aleo has also authored many articles and made numerous presentations on the roles cycles in the sun and oceans have played in climate change.
Mr. D'Aleo is a Certified Consultant Meteorologist and was elected a Fellow of the American Meteorological Society (AMS). He has served as a member and then chairman of the American Meteorological Society' Committee on Weather Analysis and Forecasting, and has co-chaired national conferences for both the American Meteorological Society and the National Weather Association. Mr. D'Aleo was elected a Councilor for the AMS.
Joseph D'Aleo is a graduate of the University of Wisconsin BS, MS and was in the doctoral program at NYU.
Mr. D'Aleo's areas of expertise include climatology, natural factors involved in climate change, weather and climate prediction, and North Atlantic Oscillation (NAO).
---
Read other commentaries by Joseph D'Aleo.
Visit Joseph D'Aleo's website at ICECAP
Copyright © 2009 by Joseph D'Aleo
All Rights Reserved.