Topic category: Other/General
Have Yourself A Merry Little Christmas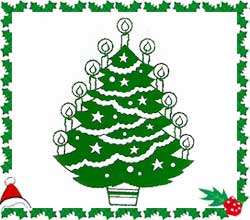 Luke 2:14††"Glory to God in the highest, and on earth peace, good will toward men."
We all love the song "Have Yourself A Merry Little Christmas." Did you know that the man who wrote the song at one time hobnobbed with Hollywood's best?
Song writer Hugh Martin's friends included Judy Garland's, Frank Sinatra and the famous dancer/singer Gene Kelly, to mention a few. Yet, with all of his fame, Hugh was very unhappy, as is the case with many in show business. We are not surprised when we learn of the failed marriages, dysfunctional life styles, and addictions to drugs and alcohol.
Originally, the title of the song was "Have Yourself A Blessed Little Christmas Night."
Excerpts from the original song
Lyrics:
Christmas future is far away/ Christmas past is past/ Christmas present is here to stay/ Bringing joy that will last/

Have yourself a blessed little Christmas/ Christ the King is born/ Let your voices ring upon this happy morní/

Have yourself a blessed little Christmas/ Serenade the earth/ Tell the world we celebrate the Savior's birth/

Let us gather to sing to Him/ And to bring to Him our praise/ Son of God/ And a friend of all/ To the end of all our days/

Let us all proclaim the joyous tidings/ Voices raised on high/ Send the carols soaring up into the sky/

This very merry blessed Christmas lullaby/

Son of God/ And a friend of all/ To the end of all our days/

Sing hosanna's hymns and hallelujahs/ As to Him we bow/ Make the music mighty as the heavens allow/

And have yourself a blessed little Christmas/ Have yourself a merry little Christmas/ Have yourself a blessed little Christmas night
-- Source: Hugh Martin Interview
One day Hugh would ask the Lord Jesus Christ into his heart. He became born again. In 1960, while in London, working with Noel Coward on a musical play, Hugh became deeply depressed and was admitted to a mental hospital. At that time he realized that there was more to life than fame.
In the small hospital chapel he asked God to come into his life that he felt was falling apart. However, because of his drug addiction and other problems, it wasn't until many years later that the Lord became the centerpiece of his life.
Although Judy Garland's voice was inspirational to the song writer, it was another singer, Del Delker, who helped Hugh Martin get closer to Jesus Christ. He listened to her sing on a Christian radio program, "The Voice of Prophecy," for nine years before meeting and becoming her friend. Today Del and Hugh are a little bit older. They both are retired, but are still blessed with musical talents and share their faith in the Lord.
Christ is the reason for the song that was written sixty years ago. He brings joy and hope in this life and in the world to come. So have yourselves a merry little Christmas now.
Marie Jon'
Send email feedback to Marie Jon'
---
Notes: Related Links:

A holiday classic from James Taylor, NPR News
---
Biography - Marie Jon'

Marie Jon' is a political/religious-based writer.
In addition to having written for WEBCommentary, Marie's writings have appeared on many sites, including The New Media Journal, ChronWatch, and Commonconservative, to name a few. Marie is no longer writing online commentary.
Marie's refreshing and spirited point of view is reflected in her writings, genuine and spiritual opinions regarding God and his teachings. Marie is a practicing Christian, a nurse, a student of the Bible, and a patriot. Many of Marie's articles are a reflection of her great admiration for those who served in Iraq and Afghanistan. She is an advocate for the troops, as well as the Blue and Gold Star Mothers of America, and their families. Marie has appeared as a guest with political talk show host Bruce Elliott on WBAL-1090 AM.
---
Read other commentaries by Marie Jon'.
Copyright © 2006 by Marie Jon'
All Rights Reserved.