Lloyd Marcus
Lloyd Marcus


Bio: Lloyd Marcus

Most Recent Commentaries:
She's Running, Continuing the Great Democratic Party Deception (April 18, 2015)
Upon hearing Hillary's ad announcing that she is running for president, I thought, have these despicable people (Democrats) no shame? The substance of Hillary's ad is same old, same old; standard Democrat low rent campaign tactics; class envy and victimhoodism.
Archives for 2014:
Archives for 2013:
Archives for 2012:
Archives for 2011:
---
Biography - Lloyd Marcus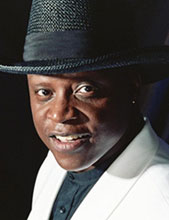 Lloyd Marcus, is a Proud Unhyphenated American.
Lloyd's childhood began in a Baltimore ghetto. He grew to manhood in the 1960s. He is an artist, singer, production designer and musical producer, all professions frequently inhabited by leftists. Even his hairstyle – his hair is long and usually woven into a tight ponytail – bespeaks avant-garde. He is outgoing with an infectious laugh. He has become a major Deltona civic leader. His songs and artwork have uplifting, often patriotic, themes. And, as his work on Republican campaigns shows, his politics lean toward the right.
For more, visit Lloyd's website at http://www.lloydmarcus.com/.